As dedicated supporters of Taft Street Winery, your loyalty has been the driving force behind the long-term success of our brand.

This fall, Taft Street Winery has started to transition away from our custom crush wine services to focus wholeheartedly on elevating our own branded wines. This exciting move enables us to direct our energy, creativity, and resources towards crafting the most exquisite, authentic wines that embody the essence of Taft Street. By concentrating on our core offerings, we can ensure that every bottle that bears our name exemplifies the quality and character you have come to expect from us. We are, after 40+ years,  excited to find ourselves returning to the place where it all started: a small family-first, friend focused winery.
 
Rest assured; this transition will have no impact on club memberships, tastings at the winery, and wine selection. In fact, it opens new avenues for us to bring you exclusive, memorable wine experiences that celebrate the heart and soul of Taft Street Winery. You can continue to anticipate exceptional wine releases, special member benefits, and events that showcase the very best of our brand.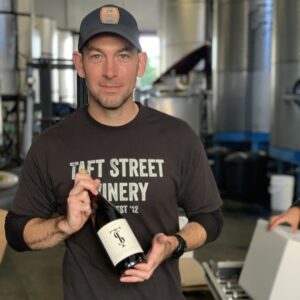 We recognize that embracing change can raise questions, and we're here to address any queries you may have. Please feel free to reach out to the tasting room, or me directly at [email protected].

We're excited to return to our small, garage-crafted roots. Your continued support has been the cornerstone of our success, and we're excited to embark on this journey together. Here's to raising our glasses to the remarkable wines and shared moments that lie ahead.

Cheers,
Jake & Mike Martini